Kador Ltd. is a Baofeng Stockist & Dealer

The Baofeng UV-B6 Emergency Radio is a multi-functional, dual band (70cm/2M), UHF/VHF, + FM, Amateur handheld, two way radio. It is packed with features and very budget friendly. Having one is an important step towards emergency preparedness.

The UV-B6 offers 99 programmable channels with priority channel scanning, dual watch and 1750 Hz call tone. Other features include UHF/VHF Dual Standby, Ani code, DTMF code, and CTCSS manual input. The UV-B6 also features a Dual display switch, VFO/Channel Mode switch, built-in 65-108Mhz FM radio, VOX (Voice Operated Transmit) capability for hands-free operation and a handy flashlight.

The Baofeng UV-B6 has 5W of power. It is powered by 2000mAh Li-Ion battery pack for up to a remarkable 10 working hours (approx.) of operation. A battery save feature helps conserve power.

The UV-B6 comes with a rechargeable Li-Ion battery pack, belt clip, removable antenna, drop-in battery charger, AC adapter, wrist strap, owner's manual & a two-year manufacturer warranty from Baofeng.
Key features which make the UV-B6 a best buy over similar radios include:

much easier to programme
improved modulation
improved receiving
great speaker with adjustable volume control
better written manual
sensibly laid out key locations
alpha numeric naming option
well-designed casing for size, comfort & strength
stock antenna supplied actually works well
long-lasting & reliable Li-ion
comfortable to hold and operate
compatibile accessories available
emergency light with dedicated on/off switch
FM radio with dedicated on/off key
bargain price for what you get

Price for one UV-B6 is $58.85* or Buy 2 - 10 for $54.85 each* , Buy 11 - 50 for $50.85 each *

Special Offer: Each UVB6 comes with a FREE earphone/mic.

*prices are quoted in Canadian dollars. Delivery & Taxes are extra.
Specifications Accessories To Buy
Baofeng UV-B6 Specifications
Transmitter

Receiver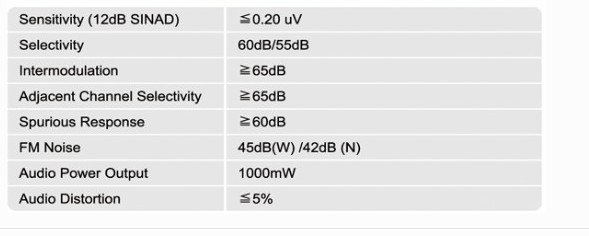 VHF/UHF Dual Band Radio UV-B6:
UV-B6 kit includes:
---------------------------------------------------------------------------------------------------------------------
1x Baofeng UV-B6 Dualband Radio 136-174Mhz+400-480Mhz
1x Dual band Antenna
1x 2000mAh Li-ion Battery
1x Charger with Adaptor (110-240V)
1x Belt clip
1x English User manual
1x Hand lanyard
1x FREE earphone/mic
1x Packing Box